We had the pleasure of meeting The Beauty Chef founder, Carla Oates recently and wow... does she radiate health and beauty. We took a moment to ask her some questions about her business and products and why great skin starts with good gut health.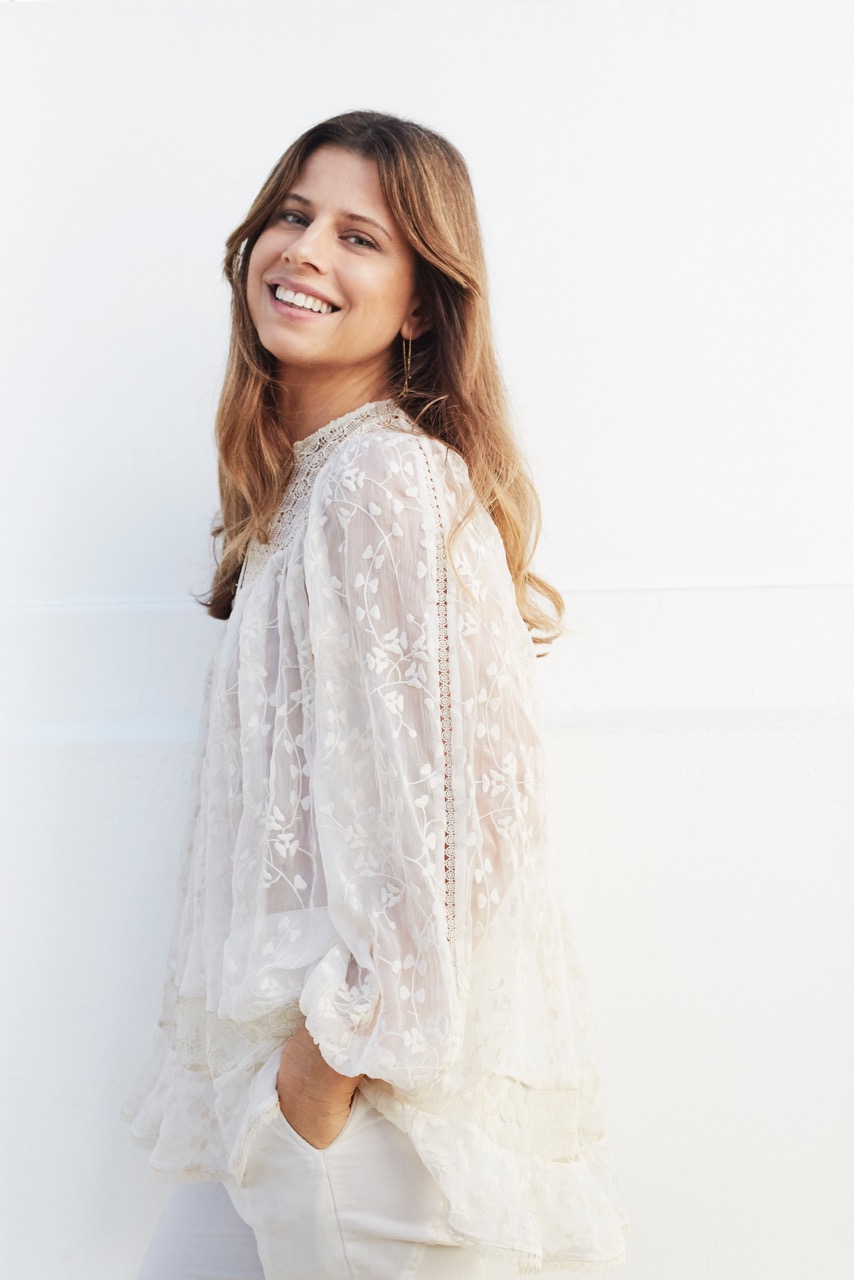 How did the Beauty Chef come to be?
I was working as a beauty editor about seventeen years ago and became concerned with the amount of toxic chemicals in skincare. I had always been interested in alternative/holistic health so I started researching the benefits of looking after your skin with clean ingredients, predominantly super active plant compounds that rejuvenate the skin from the inside, out. I made the decision to write only about natural and organic health and beauty and delve into more researching and formulating organic products to offer women healthier options. I had eczema as a child and when I was a teenager I saw a naturopath who changed my diet and it had a profound impact on my skin. From there I understood the importance of what you put in your body for good skin health.

I penned a book for Penguin books called Feeding Your Skin and began formulating recipes and products and became the beauty editor of Wellbeing magazine and penned a column called DIY beauty for The Sunday Telegraph. I have been researching and writing about the positive effects of natural and organic skincare on skin and health over the last decade and at the same time formulating products for myself and my research.

I established The Beauty Chef in 2012 after researching the benefits of lacto-fermentation, probiotic foods and the skin/gut connection. This was a result of my daughter having allergies and eczema and putting her on a gut healing protocol. Part of this protocol (besides eliminating certain foods from her diet like gluten and dairy), was making all my own lacto-fermented, probiotic rich foods. I noticed my skin was glowing from eating these veggies regularly and I soon became the local pusher (to family and friends) of fermented foods as everyone was noticing the difference in their skin health and overall health from consuming my creations. My first product GLOW is based on this research. I created quite a demand and that demand grew to friends of friends. It seemed a natural progression to create a brand. People became addicted to my lacto-fermented veggies and kefir coconut water – hence why The Beauty Chef started with my lacto-fermented inner beauty super food powder, GLOW – 24 bio-fermented superfoods with broad-spectrum probiotics.

Do you have a favourite product from the Beauty Chef range and why?
From our Inner range I'd say GLOW Advanced Inner Beauty Powder as it was my very first product so it is very special to me. It is also the foundational product in the range. GLOW is my daily skin support and maintenance staple. It gives me a good dose of skin loving nutrients and also probiotics to nourish and boost digestive health.

At The Beauty Chef, our ethos is "Beauty begins in the belly". Digestive health is key for healthy, radiant skin. Our gut is where 70% of the immune system lies, where we metabolise hormones, where we make detoxifying enzymes and where we make nutrients. So much of what goes on in our digestive system can impact our skin. More and more research shows the link. For example those with healthier gut microbiota have a better fatty acid profile in their skin – meaning their skin is more moisturized and hydrated. Those with dermatitis have been shown to have a disruption of normal gut microbiota. Where there is gut inflammation, there will be skin inflammation.

The fermentation process and probiotics found in our Glow Powder work together to help get the digestive system back on track. Lacto-fermented foods promote better digestive health, leading to greater absorption of nutrients and improved detoxification. Probiotics are good bacteria help keep the digestive system healthy and boost the immune system of the body and skin. GLOW Advanced Inner Beauty Powder contains 24 different skin-loving, lacto-fermented super foods, designed to improve gut health and digestion, and promote healthier, glowing skin from the inside out. It is also a great general probiotic.

From our Outer range my favourite products is the Probiotic Skin Refiner, which embraces fermentation for the same reasons we use it with our inner beauty range – it makes nutrients more bio-available and creates skin-balancing probiotics. It is a bio-fermented wholefood extract that refines, hydrates and synthesizes collagen. I love the fact that lacto-fermentation is a completely natural biological process. It breaks ingredients down (the bacteria pre-digest the ingredients) making the nutrients more bio-available. We don't need to make super-duper synthetic ingredients in a lab (that may send our skin into imbalance and often our health too) to achieve "active" ingredients. Here, we have this incredible process that turns natural ingredients into super natural and active ingredients - active, balanced and rejuvenating. And it is all done by nature!

Research is showing that by supporting the flora on the skin topically, you can boost your immune system - so there is a direct relationship between what you put on your skin and your immune system. I love our probiotic skin refiner as it is a skin hydrator, exfoliant and collagen booster – all in one.

What has been your favourite story from a client using Beauty Chef products?
There are so many! I love it when customers say that a product has changed their life – whether it be helping with a skin condition, tummy problem or energy levels.

Do you have any advice for a TFM bride on how to get their skin ready for their wedding day?
Start prepping your skin from the inside out, at least one month before as you don't want to detox too close to the big day. If you want clear, radiant skin, start using our cleanse powder alongside our comprehensive cleanse guide one month prior and then transition to the GLOW Inner Beauty Powder a few weeks before your big day. Our products are cleansing, nutrient dense and great for digestive health and will help prime your skin from within. Also focus on eating lots of wholefoods, avoiding refined foods and sugar. I would also recommend drinking purified water – at least 1.5 litres per day and start dry body brushing one month prior – this helps detoxify the lymphatics and gets oxygen to the surface of the skin to help get your glow on.
 
What is your hair and makeup style?
Heathy and natural. I believe that looking after your body from the inside out, gives your skin a radiance that no amount of cosmetics can replicate. When you glow from the inside, you don't need as much make-up. I love just a little tinted moisturizer, some natural bronzer and a touch of mascara.

What does your skin care routine look like?
My beauty routine starts at night because this is when all the good stuff happens and the skin can truly rejuvenate without the interruption of environmental assault you are exposed to during the day. First of all, I gently cleanse my face using coconut oil and a muslin cloth to wash away the day's grease and grime. Oil is very effective for lifting dirt from the skin and coconut oil boasts both antibacterial and anti-fungal properties, making it the perfect cleanser. I then dab a little Probiotic Skin Refiner onto a cotton-wool pad and swipe it over my face to gently refine my skin, balance the skin's natural flora and stimulate collagen production (thanks to the natural lactic acid). Then I apply a few drops of Dream Repair Serum and massage it into my face (light on my oily T-zone, however), neck and décolletage. This is brilliant for infusing both skin protective anti-oxidants and skin nourishing essential fatty acids (omegas 3,6,7 and 9) into the skin as well as rejuvenating the skin with vitamins A, B, C, D, E, P and K. Then I apply a little Beauty Fix Balm under my eyes, on my lips and any dry patches - and off I go to bed.

Any favourite products you love to use?
I love all The Beauty Chef products! Others include: coconut oil to cleanse my face and body with. It's rich in antibacterial and anti-fungal lauric acid as well as fatty acids to help keep the skin lovely, moisturized and soft. I also love apple cider vinegar for rinsing my hair with (put in warm water at a ratio of 1:4) in between shampooing and conditioning – it gives the hair a lovely shine and helps to balance the pH of the scalp. Other products I love are RMS beauty and also Ere Perez.

What is your most memorable career achievement thus far?
Recently I've been working with a team of microbiologists on improving my fermentation process and making the products the best they can be. Everyday I feel the highs of seeing my brand genuinely help people. I love seeing it grow and also watching the change in public perception around inner beauty, fermentation, bacteria and well being and skin – and being a part of that change. That means a lot to me.

In the last year The Beauty Chef made huge progress in a business sense, and seeing my products on the shelves in the UK (Selfridges), USA, Asia and on the pages of Net-A-Porter, GOOP and now Sephora has been really exciting!

Another highlight is my daughter Jeet (19) starting to design her own food blog and saying that she wants to do something with food and nutrition. It's all come full circle. Just the other day she said "you've really inspired me, mum." I feel an incredible sense of happiness and pride knowing that by pursuing a career that I love has helped inspire my kids to do the same. This is a huge highlight!

What's in store for Beauty Chef in 2018?
More and more education around the importance of gut health for beautiful skin and well being and also more beautiful products to support our ethos of 'beauty begins in your belly'.

Favourite instagram stalk at the moment? @the_vista Dreaming of holiday destinations!
Follow Carla here: @thebeautychef
Learn More about The Beauty Chef here: thebeautychef.com